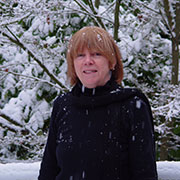 Drawing is a form of discovery.  It takes me places I have never been before.
Joan received her Masters in Drawing & Painting from the University of New Mexico in Albuquerque.  Seemingly infinite desert space triggered an ongoing exploration of the contradiction of flatness and illusion of depth in painting and drawing. Her focus on Italian Renaissance perspective led to her receiving a Canada Council grant to live in Rome Italy as a practicing artist. Time in Italy continues to have a huge influence on Joan's selection of materials and methods and her interest in the spatial qualities of architectural form and terrain.
Joan has taught drawing and painting at universities and art colleges in Canada, Australia, the U.S. and Italy. Her work is represented in corporate, public and private collections and has been exhibited in solo and group exhibitions internationally. Corporate and public representation include Department of External Affairs, Canada; B.C. Ministry of Culture, Canada; Canada Council Art Bank; Queensland State Art Gallery, Australia; Toronto Dominion Bank; Guaranty Trust; Daon Corporation; Deloitte Haskins & Sells; Phillips Hager & North; Thorne Riddell & Co.
Contact:  joanemartin@tutanota.com