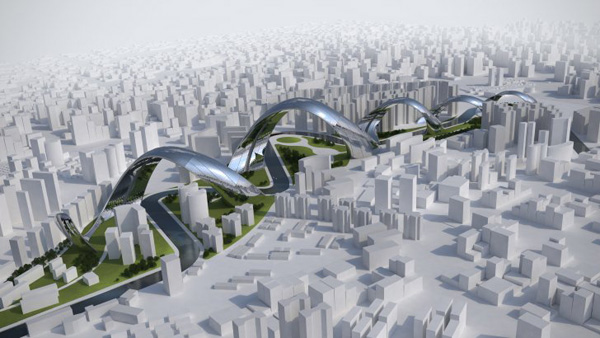 The conceptually extravagant megastructure called 'Sity' is a design proposal for the city of Shanghai – likened to a gigantic dragon coiling its way through the city. At times the structure reaches 60 stories in height as it loops its way over a man-made river and park. It is designed as a multi-purpose structure with an internal transit system serving upper floors of the 'Sity' and touching down at various points to provide access to the activities of the city.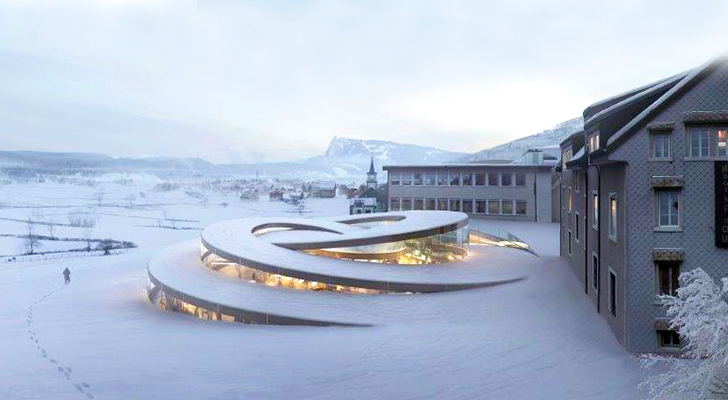 This striking concept for the new museum and workshop space for the Swiss watchmaker Audemars Piquet feels as thought it emerged naturally from the surrounding gently rolling landscape. An aesthetic double spiral sequences the indoor space into a logical continuum for visitors as though representing the inner workings of a beautifully designed watch. The roof and ceiling are designed as a single piece of metal undulating to allow interplays of interior lighting and daylight.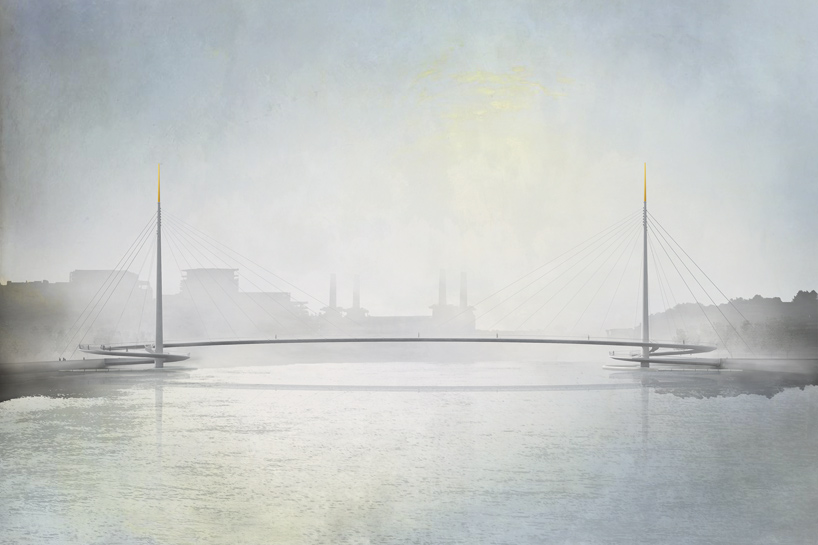 The simple and elegant bridge over the river Thames will be the first bridge for cyclists and pedestrians in central London. The photo itself has a Turner-esque quality and the spiral ramps at each end give it an alive spring-like feeling. One of the challenges is to give the bridge enough height above the Thames to allow movement of river traffic without making an excessively steep incline for cyclists and pedestrians.
Smithson's famous large-scale earthwork 'Spiral Jetty' was recently recognized by the state of Utah as an official state work of land art. Located in the algae-reddish northeastern shore of Great Salt Lake, the jetty is designed to be several inches above the water level. Depending on the season, it may be fully submerged or exposed on the dry salt flat. 15 feet wide and 1500 feet long, the jetty used more than 6000 tons of rock and earth. The art historical significance and beauty of the jetty in its remote location will continue to attract visitors to walk the spiral in the drier seasons and perhaps the wet.